DANNY B's TOWING & HARLEY DAVIDSON MVP TOWING

WE ARE PROUD TO BE THE LOCAL M.V.P. TOWING COMPANY FOR CAPITAL CITY HARLEY DAVIDSON. SPECIAL DISCOUNT FOR TOWING AFTER A CRASH OR TO BE TOWED IN FOR SERVICE, BREAK DOWN / NO START. A WIN FOR ALL RIDERS... TWO OF THE BEST WORKING TOGETHER TO PROVIDE RIDERS WITH QUALITY SERVICE.

LADY PULLED OUT IN FRONT OF THIS M/C, LANDED 50+ FEET FROM THE IMPACT. DRIVER WAS FINE, WAS WEARING HIS SKID LID, HIS FOOT DIDN'T SEEM TO HURT NEAR AS BADLY AS HIS BROKEN HEART, CAME BY THE NEXT DAY WAS THRILLED HIS BIKE WASN'T WINCHED ON AND UP A FLATBED!

Below: Lee from, Lee's Towing & our Danny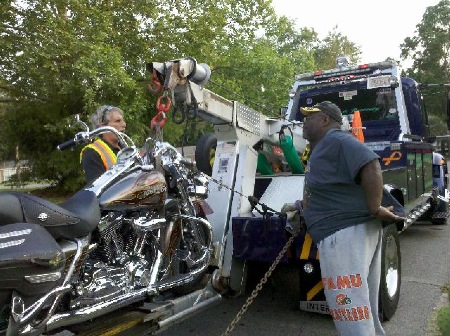 ONLY 100 PAINTED LIKE THIS, TINS ON THIS BIKE ARE 49/100